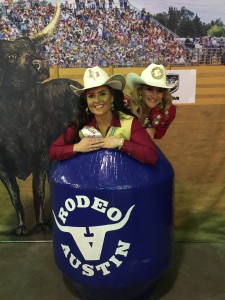 What a month and a half it has been! After Houston
wrapped up I headed over to Rodeo Austin for the last three performance.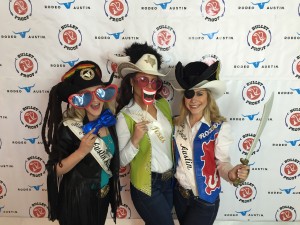 I was able to hang out with the Rodeo Austin Royalty; Tianti Carter Miss Rodeo Austin and Miss Rodeo Austin Princess Madison Ward. They were both so kind to show me the ropes and how they did rodeo in Austin. I had so much fun spending time with these girls and enjoyed getting to know them better. During the rodeo each night, we rode in to be introduced, helped with the Mutton Bustin', rode in the barrel truck, and signed plenty of autographs afterwards. Thank you to everyone at Rodeo Austin for having me and welcoming me just like family it was a real treat!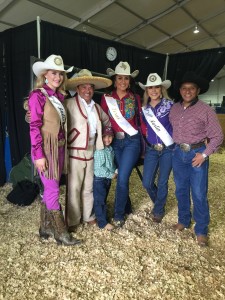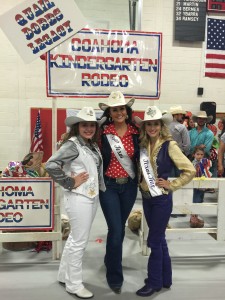 From Austin it was off to Coahoma Texas home of the legendary rodeo clown Quail Dobbs, for what was probably the cutest event I have ever been asked to be a part of the "Cohoma Kindergarten Rodeo". There were 60 or so tiny cowboys and cowgirls who entertained a large crowd at the elementary gym. There were clowns (quite a few mini Quail Dobbs), bronc riders, ropers, barrel racers and just about everything you would expect to see at a "grown up rodeo".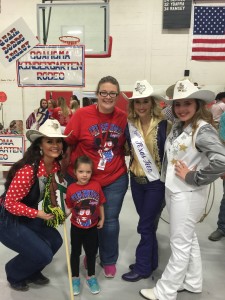 Stick horses were substituted for actual livestock, but that did nothing to lessen the entertainment factor. In addition to roping and riding, the children also entertained the crowd with several rodeo themed songs and put on a square dancing demonstration and where so kind to even let me join in on their line dance. The rodeo began in 1978 as the brainchild of famed rodeo clown Quail Dobbs. This year's rodeo was in dedication to the late Quail Dobbs and they even dedicated the street the runs through the Coahoma ISD campus in his name.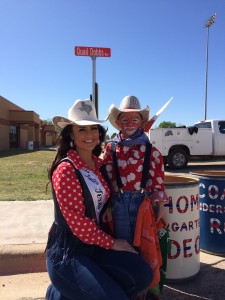 I have to say this was a very special event and it makes me so happy to see that this small community is not only keeping Quail's vision alive, but also continuing to educate our youth about rodeo and agriculture in a fun and exciting manor! Thank you for letting myself as well as Sissy Winn, and Cheyanne Barrett be a small part of this exceptional event.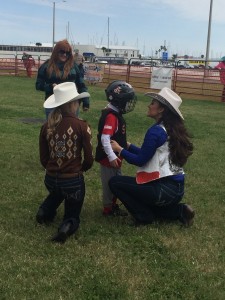 After we wrapped up the Kindergarten Rodeo Sissy and I headed south to Corpus Christi for the Mutton Bustin' Mania. This was another rather cute event where the Rodeo Corpus Christi committee held mutton busting prelims for the mutton busting that would take place during the rodeo performances. This event took place on shoreline boulevard where we had sheep on a beach!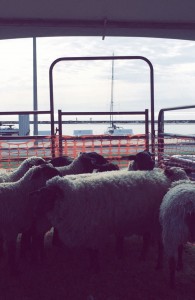 It was very interesting to see sheep and sailboats all in the same place. After all the kids rode it was time to draw names to see which kids would be riding in the rodeo performance. Unfortunately not all the kids could ride at the rodeo only 24 could, so the pressure was on Sissy to draw the names. The names were drawn and we would see them in just two short weeks for the rodeo.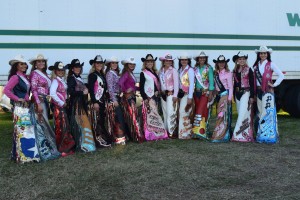 From one side of the Gulf of Mexico to the other. I was off to Kissimmee Florida for the Ram National Circuit Finals Rodeo. This was my first event with some of 2016 state queens I was so excited to meet them and spend the week full of adventure with them. I was extremely lucky to be able to attend this event and represent Texas on a national stage again. I carried the Texas Circuit flag as well as helped run sponsor flags throughout every performance.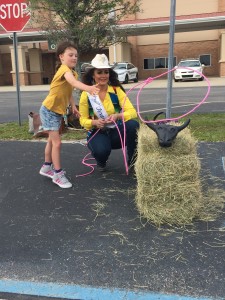 Before every performance all the rodeo queens were in the "fan zone" to interact with the fans and help educate them on what would be going on during the rodeo. I was very happy to see roping dummies and was egger to swing a rope and teach anyone who wanted to how to rope.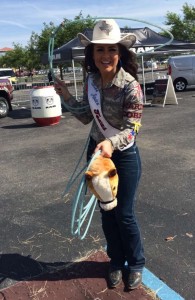 For the most part it was little kids who wanted to learn but occasionally adults would wonder by and ask for help. This is one of my favorite parts about being a rodeo queen just getting to interact with people and share a little bit of knowledge about my heritage and give them a look into rodeo and agriculture.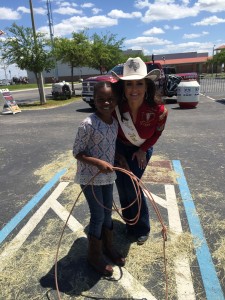 I was also asked to be a model for the Justin Cowboy Crisis Fund Skirts and Spurs Fashion Show, representing the Texas Circuit along side one of my favorite barrel racers and personal hero Jana Bean.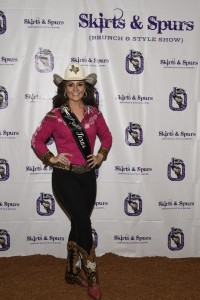 It was a blast Florida but I have to say it was great to get my boots back on Texas ground, or should I say sand because I was back down to Corpus Christi for the rodeo.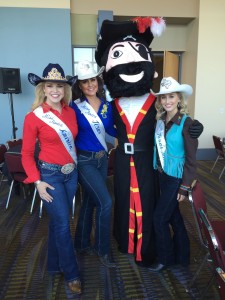 Rodeo Corpus Christi had quite the queen trio with Miss Rodeo America, Miss Rodeo Texas, and Miss Rodeo Texas Teen all ready to rodeo. We kicked it off with the Rodeo Corpus Christi 25th anniversary dinner, where we all got a fun history lesson behind the rodeo and its founders who are all still involved today! The rodeo was kicked of with a very impressive pyrotechnics show and followed with us running sponsor flash under a dark house and spot light!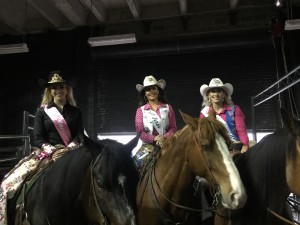 My ex-bronc horse turned pickup horse wasn't overly excited about running around with fire on the ground and a bright light following him around, but we made it through with no problems! Its always a nice treat when we get to help run the stock out of the arena and help in anyway possible. The pickup men were so nice to let me carry a rope while helping, with the condition that I had to show them that I could use it! So whenever they missed it was my turn to show them that I'm not to shabby at swinging a rope, and I think they missed a few times on purpose.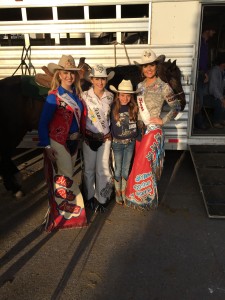 Thank you Rex Bugbee for letting me ride Socks and Jason Bottoms for letting me use your ropes.
One morning we were so lucky to attend the Driscoll Children's Hospital with the Bullfighters Blue Jeanes, Weston Rutkowski, and funny man Justin Rumford, this is such a humbling experience but so joyful just seeing the little bit of joy we could bring to these kids.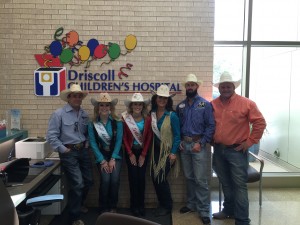 Thank you for having us Driscoll Children's Hospital. Frontier Rodeo really made this an outstanding rodeo from the bucking stock to their kind hospitality to us all.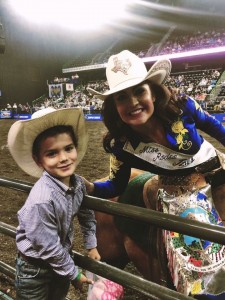 Thank you Rodeo Corpus Christi for having us all and treating us to the beach lifestyle with a little rodeo action!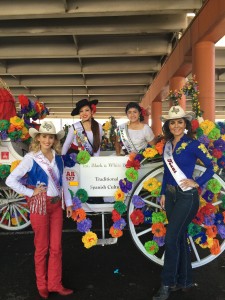 I had a day or so to catch my breath from all the action before all the Fiesta activities kicked off in San Antonio. Sissy Winn and I were able to ride in the Battle of Flowers Parade. Thanks to Billy and Brenda Harris and the Western Heritage Riders for providing the beautiful palomino horses and for letting us ride with you all.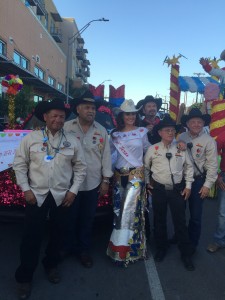 The next night was the Fiesta Flambeau Night Parade where I rode on the San Antonio Stock Show and Rodeo Public Affairs Committee's float. I have never seen so many people lined up to watch a parade before. Im glad I found out that "show me your shoes" was a big deal in this parade, so I made sure to wear my flashy red high top Justin Boots. For the entire parade I felt like a Dallas Cowboys Cheer Leader doing high kicks the whole way showing everyone my boots!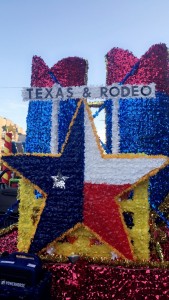 Thank you to the Public Affairs committee for letting me be such a big part of y'alls float and for taking me in as a part of the family!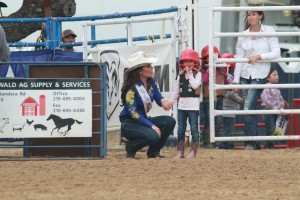 The Helotes Cornyval was just like coming home getting to see so many familiar faces. I was fortunate enough to be apart of the mutton busting every night before the rodeo, make a queen lap as I was introduced, even had the opportunity to help push stock out of the arena.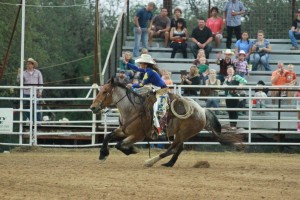 Thank you pickup man James Hajek for letting my ride your nice roan horse or as Mike Mathis called him "the elephant". Friday night saw a little more action than planned as a thunderstorm passed over causing a slight delay but didn't stop the rodeo action. That morning I was overjoyed to attend the special kids rodeo. Quite a few kids came to the rodeo grounds for a fun-filled day of riding horses, roping, face painting, and dancing.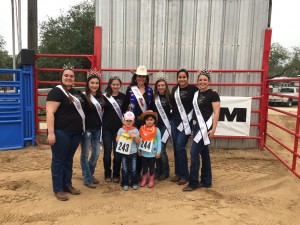 It is just so nice to be able to help put a smile on kids faces while giving them an inside look into what the western way of life looks like. Saturday morning was the Cornyval parade where I rode with the rodeo committee.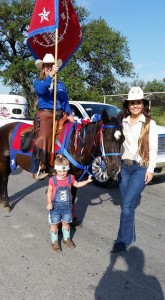 Thank you Kim and Brian Anderwald and their daughter, Kinslee, for decorating the kawasaki mule for the parade and for being so kind and helpful to me the entire time.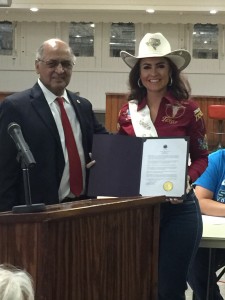 After the Helotes Cornyval I made the drive home to West Texas. The Alpine city council board asked me to attend one of their meetings and thankfully it finally worked out for me to attend. Little did I know that they had planed a proclamation ceremony to dedicate May 3rd as Miss Rodeo Texas Nikki Woodward day!
My mom and everyone involved were very sneaky and successful in keeping this a secret from me, I was very surprised when I found out! I love my little home town and am just so humbled and honored that they did this for me!
I am so blessed and fortunate enough to have had all of these wonderful experiences this year and none of it would have been possible without the support and sponsors of Miss Rodeo Texas, Thank You!
"Vaya con Dios"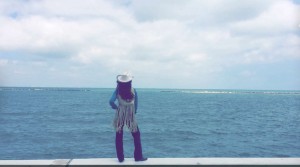 Nikki Woodward – Miss Rodeo Texas 2015