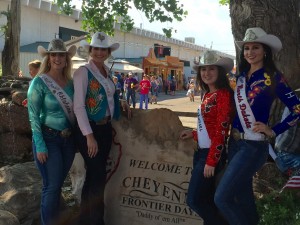 George Strait's famous words, "I can still make Cheyenne…" rolled through my mind as I was preparing to leave for the airport at 2 A.M. on July 29th. I; however, was using the term as motivation to stay awake while getting ready for the 5 A.M. flight I had to catch. Little did I know what I was going to experience while in Cheyenne, Wyoming. T
he Daddy of 'em All exceeded my expectations and then some! As soon as I arrived in Denver I received my first surprise of the trip – Alex Ingram, Miss Rodeo Texas 2014 and I were taking the same shuttle from Denver to Cheyenne! It was great to be able to catch up with sweet Alex! Upon arrival in Cheyenne I immediately ran into a fellow Texan and San Antonio Livestock Show and Rodeo Committeeman, which was nice! I was certain that this must be a good sign. I had already ran into more Texans on this trip than I had native Wyomingans.
While in Cheyenne I was able to tour the Francis E. Warren Air Force base thanks to Mr, Richard Morrison,  ride in what was probably the longest parade of my life, and run down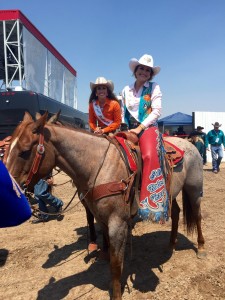 a racetrack horseback for the notorious rodeo queen "fly-by!" Friday afternoon, Cheyenne brought me another unique surprise – a hail storm which made me question if I should be searching for a basement! I mean, when it hails like that in northeast Texas you better run for cover because a tornado is coming next! Fortunately that wasn't the case, and once the hail stopped the sun peeked through the clouds just in time for the KISS concert! The committee in Cheyenne treated all of the rodeo queens so kindly, and it was so neat to meet with people from all over the world who came to watch and enjoy the Cheyenne Frontier Days.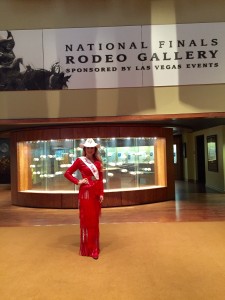 The following weekend I traveled to Colorado Springs, Colorado for the induction of the 2016 class of the Pro Rodeo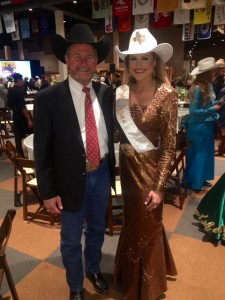 Hall of Fame. It was such an honor to meet and learn about the legends of our sport. The stories told ranged from joyful memories to tear jerking tributes.
The Douglas County Fair and Rodeo served as the host rodeo for the P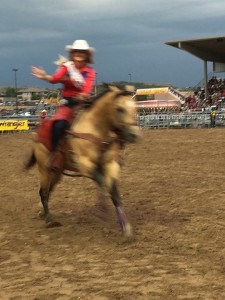 ro Rodeo Hall of Fame where the 2016 class of Dave Appleton, Arnold Felts, Jerold Camarillo, Myrtis Dightman, Bud Linderman, Phil Gardenhire, John Quintana, steer wrestling horse Sottie, bucking horse sire Gray Wolf, Redding Rodeo, and Spanish Fork Fiesta Days Rodeo were recognized and fans were given the opportunity to meet the inductees. Each of the inductees was well-deserving of the honor!
While in Colorado, the Outlets of Castle Rock hosted all of the state rodeo queens for a morning which made for quite the day! I mean who doesn't like to shop? I had a blast shopping and getting to know the fellow state rodeo queens.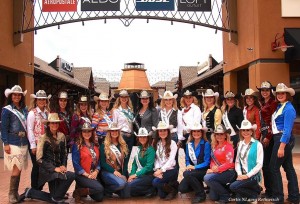 Shortly after arriving back in Texas a repacked my bags to head to "the Biggest Little Rodeo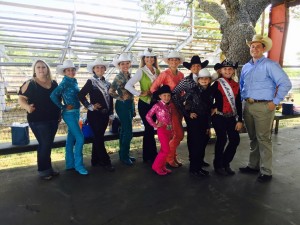 in Texas" in Forestburg. I served as one of the judges for their rodeo queen and princess contest which I truly enjoyed. The young ladies competing were talented, driven, and unique. When it came time for the rodeo, Forestburg held true to their title.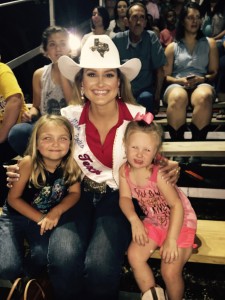 The whole town shut down for the rodeo and Watermelon Festival. Even in the middle of the rain and thunderstorm the stands stayed packed! Thank you to Stacey Ward for the opportunity to be a part of such a fun event!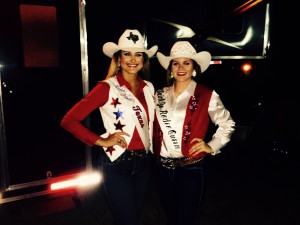 Back in San Antonio, I was invited to attend the South Texas CattleWomen's, a generous sponsor of Miss Rodeo Texas, meeting in Hondo as a guest speaker where I shared the story about how my family moved to Texas to operate a dairy farm, my journey to becoming Miss Rodeo Texas, and my aspirations as a rodeo queen. It was great to be able to speak with like minded women about the ties between agriculture and rodeo.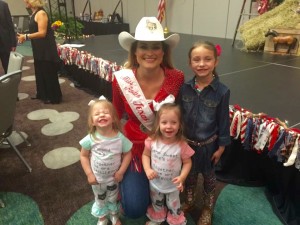 This past weekend I traveled to the Twin City of Texarkana for the Four States Fair and Rodeo queen contest. It was so nice to be back "home" as I lived about 25 miles west of Texarkana when I taught school last year. I served on the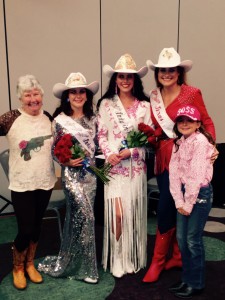 panel of judges for the Miss Four States Fair and Rodeo pageant, which resulted in the selection of two great girls to represent Four States this upcoming year! The pageant was very well run and a ton of fun.
I am currently gearing up for a month full of Texas rodeos which I am very excited for! I will attend my "home town" rodeo in Mount Vernon, Texas for the Franklin County Sheriff Posse Annual Labor Day Rodeo, the West Texas Fair and Rodeo, the Tri-Sate Fair and Rodeo, and the Fort Bend County Fair and Rodeo. I hope to see you there!
Be thankful for the ones beside you, the God above you, and the life before you.
God bless,
Lisa Lageschaar
Miss Rodeo Texas 2016