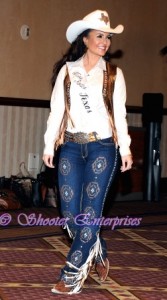 Happy New Year! I hope everyone had a safe and wonderful holiday season. Mine was spent catching up on sleep and some much-needed deep hair conditioning after my ten days in Las Vegas competing at the Miss Rodeo America Pageant. This year was the year of change at the pageant; every single event was different from years past. The first event, contestant introductions, threw us a curveball and had us answer current event questions right off the bat.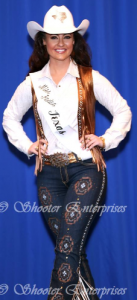 Having made it through the first big hurdle of the pageant the rest of the day was filled with rehearsals, room move in, wardrobe fittings, and the welcome social where the decorated Wrangler jeans competition took place. I am so happy to have won the award for best-decorated Wranglers. My best friend Brianna Sloan and I got together and decided to create a fun pair of pants that could be easily reproduced by Wrangler. She was so helpful and even decorated my boots for the Justin Boot Parade, Thank you so much for collaborating with me and creating some knock out outfits! It was a great start to a fun filled eight days of pageant. (Special thanks and photo credit to Shooter Enterprises for all the pictures)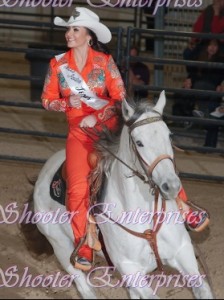 Horsemanship had a big change this year with the new but old rail work addition. For the last few years they had the freestyle pattern but this year they changed it back to the more realistic rail work competition. Its always a good stress relief getting to ride a horse even if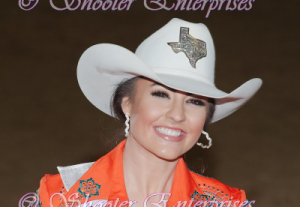 it is on a horse I don't know and during one of the biggest competitions of my life, it was a blast! After horsemanship it was time for all my studying to be put to work on the written test. Even the test had a change itself this year! 200 points up for grabs, which was almost as many points as horsemanship itself! The pressure was on!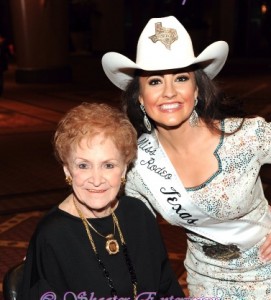 The next big event was the Hall of Fame Gala where I let the crowd in on my most memorable moment from my reign, a secret even Marjorie Murphy didn't know until that moment! After all of the girls stories it was time shine the light on Lolly Klug and Tom House who were deservingly inducted into the Miss Rodeo America Hall of Fame.
On to the impromptu speech! This was the biggest change to the pageant! We had ten minutes to prepare a minute and thirty-second speech over one of five topics provided to us. We didn't see any of these topic options until we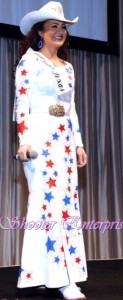 were taken to the prep room and time started ticking away. My topic choice was  "True Western Living" one that is close to my heart and easy to talk about. This choice paid off as I won this category; out of all the changes and categories to win I am so thrilled and humbled that I won this one.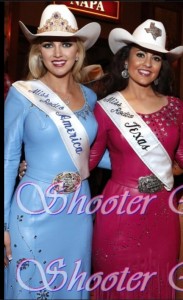 Later that evening we attend for the first time the PRCA Awards Banquet where we met and mingled with the nominees and award recipients, it was an amazing and once in a lifetime experience.
The next day was the one I was most excited and nervous for, the WNFR Chap Luncheon. We were asked rodeo, and equine terminology as well as a significant person associated with the PRCA. Once again this event presented us with a big change, we didn't know that we would be given three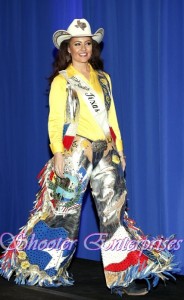 different terms until just minutes before we entered the room. This event was the trickiest to me because our terms were given to us with out content and could be explained numerous ways, but that's just a part of being a rodeo queen. That night we attended the first performance of the Wrangler National Finals Rodeo a great reprieve from the hustle and bustle of the pageant. After our break it was back to pageant action for the Fashion Show.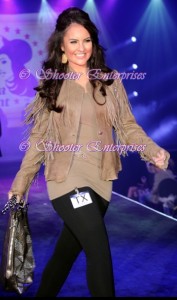 The Fashion Show was a blast getting to show off some designs from Wrangler and Kippys, as well as my personal outfit. The best part about this event was seeing all of my fellow Texans, family and friends in the audience.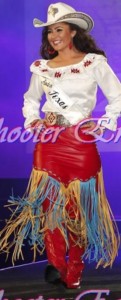 It really showed me how blessed I am to represent the wonderful state of Texas, and the most stressful part of the pageant was just wanting to make every single one of them proud! After the Fashion Show we attended the live feed of the WNFR in the gold buckle zone.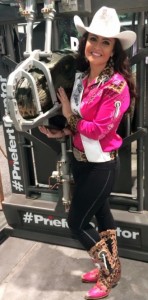 The next day we went to Cowboy Christmas to show off our decorated Justin Boots and auction off some bags for the "Bucks for Bags Scholarship Auction". My bag included a trip to West Texas, some beautiful hand made jewelry, and much more. My purse was the highest selling purse! From there we shopped all around the convention center, then hit the town! We were lucky enough to ride the High Roller, Las Vegas's 550-foot tall observation wheel that boasts the best views in town.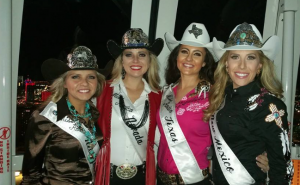 It was a long day full of walking all over Vegas and we were all very happy to get back to the hotel and put our feet up. The next and final day was a big one! Coronation was here and I am so incredibly happy to have made the top five and won the speech category.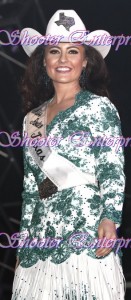 I want to say a huge Thank You to everyone who has supported me, sent wonderful uplifting emails, cheered from the crowd, and watched from home, it means so much to me to have represented the state I love and to have had the support of each one of you!
Thank you!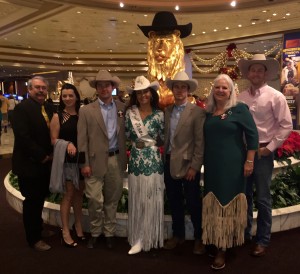 With the New Year it's out with 2015 and in with 2016! I'll kick off the New Year at the Miss Rodeo Texas Clinic January 9-10. Twelve years ago at this clinic my rodeo queen journey began! It was at this clinic where I learned to talk on a microphone, talk in front of people in general (I used to just whisper), answer questions, learned how to interview, and met some of the most wonderful people who have had a huge impact on my life. I can't wait to see and meet the girls who will be there and be apart of their journey. I still have six months left full of rodeos and adventures to come! Stay tuned for all that is to come.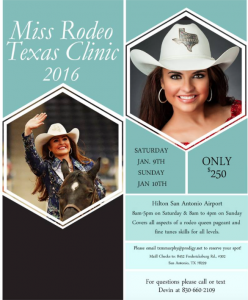 "Vaya con Dios"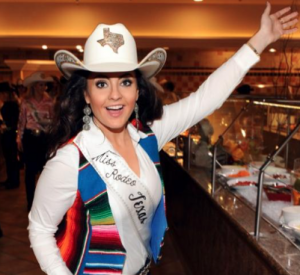 Nikki Woodward – Miss Rodeo Texas 2015