Hello Miss Rodeo Texas Fans, The month of April was a busy one. It was full of exciting trips from school visits, to fashion shows, and to rodeos. I kicked the month off with the 35th Annual Coahoma Kindergarten Rodeo along with Quail Dobbs, Avery Greene, Miss Rodeo Texas Teen, and Alysia McCormick, Miss Rodeo Texas Princess.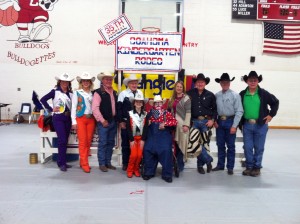 When told I was going to a Kindergarten Rodeo, I really didn't know what to expect. However, I did know that if the legendary Quail Dobbs was involved, it was going to be BIG! After doing some research I found out that Quail created his own Physical Education Curriculum unit for this Kindergarten class. The students spent weeks learning about rodeo, and then got to pick the event that they would like to compete in during the Kindergarten Rodeo. Then the students got to create their very own stick horse and make their rodeo outfit. The students were too cute dressed up in their rodeo gear and the entire kindergarten class looked ready to rodeo!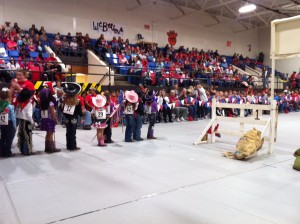 The school gym was transformed into a rodeo arena and the energy inside was electrifying. At the start of the rodeo Avery, Alysia, and I borrowed our stick horse mounts from a couple of gracious students to make our queen runs. After that, the rodeo was on and things got western! The students competed in barrel racing, bull riding, pole bending, and saddle bronc. We had so much fun singing rodeo songs and doing a little line dancing. I was amazed at what a great job the students did and could tell they had been really practicing. It was so nice to see the love of rodeo in these young students' eyes and I was so honored to participate.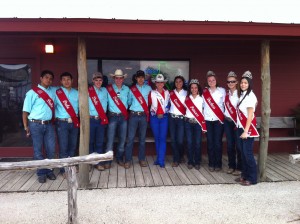 During the second weekend in April, I was happy to attend the Annual Poteet Strawberry Festival. For years I have wanted to attend this festival. Upon my arrival I was informed that I would be the celebrity judge for the youth strawberry cooking contest. I love just about anything made using strawberries and being in the middle of all the contestant's entries felt like heaven. From jams, to cookies, to breads, and pies they did an outstanding job. The judging was extremely difficult. I'm glad I didn't have to put my cooking skills up against these talented youngsters. I really wished I could have picked more than just one winner. After the contest, I made my way to the arena for the rodeo. During the rodeo I made a queen run, visited with fans, and signed autographs. Following the rodeo the Poteet Strawberry Festival King and Queen court and I headed to the concert where we got to meet country music artist Neal McCoy during the meet and greet session.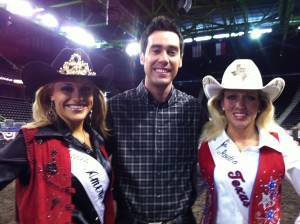 From April 17th to 21st, I attended the Corpus Christi PRCA Buc Days Rodeo. This rodeo is one of the top 5 biggest Pro Rodeos in Texas. With its large pay out, it draws in some of the top cowboys and cowgirls in the game. I had the privilege of doing several radio interviews promoting the rodeo with 8 time PRCA World Champion Bull Rider Don Gay during my first day in Corpus Christi. It felt surreal walking around the radio stations with such a legendary cowboy. I greatly enjoyed visiting with Mr. Gay in-between interviews and hearing his stories about his rodeoing days. Later that evening Chanae Shiner, Miss Rodeo America, arrived in Corpus Christi. Chanae and I had so much fun catching up on each other's travels and were so excited to be back together for the week. The next few days were packed with autograph signing sessions, school visits, and television interviews promoting Buc Days. Each night at the rodeo we were formally introduced and helped to push cattle out of the arena. On Friday morning, 1,100 elementary students came out to watch the barrel racing slack and learned what rodeo is all about. I had a blast talking to the students and taking pictures with the classes. Saturday morning, Chanae and I, along with a few other rodeo personnel went to visit the Children's Hospital. It was rewarding to be able to visit with the children and be able to brighten their day.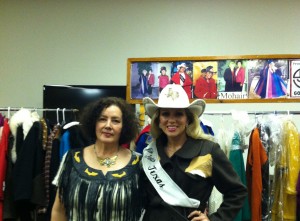 This month I was also able to attend three fun fashion shows. I love clothes and am always excited to see and learn about new fashion trends. I kicked off the month with a fashion show in Leaky, Texas where I got to model stylish mohair jackets for Dolores Designs. Dolores is a gracious sponsor of Miss Rodeo Texas. I am honored to call this talented woman my friend and be able to model for her. On April 16th, Marjorie Murphy, Miss Rodeo Texas State Director, and I headed to Kerrville, Texas along with several members of the South Texas Cattlewomen for the Texas Hill Country Cattlewomen's Fashion Show. I had a blast visiting with fellow Cattlewomen and walking the runway modeling one of my favorite dresses made by Patricia Wolf. On April 24th, Marjorie Murphy and I headed to the Omni Hotel in San Antonio for the Women's Club Fashion Show. We had a fabulous time socializing with the women of San Antonio and viewing trendy summer fashions presented by Dillard's.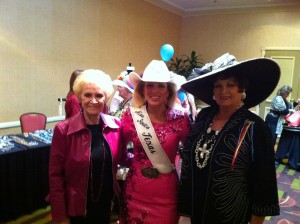 By living in San Antonio this year, I have learned about several of the fun traditions this city has to offer. One that is definitely now on the top of my favorites list is Fiesta. This year was my first year to experience Fiesta and all I can say is WOW! I began my Fiesta week at Knowlton Elementary where the second grade class had put together a lovely, colorful parade. The students had made bright costumes to wear and decorative mini parade floats. We had a fabulous time parading through the school singing Fiesta songs.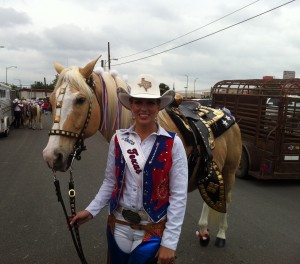 The next day, April 25, I had the honor of riding with the Texas Heritage Riders and among their beautiful palomino horses in the Fiesta Battle of the Roses Parade. My all-time favorite parade horse, 'Jazz' and I, made our way through the streets of San Antonio. I was stunned by the number of people that came out to watch the parade. The streets literally had a sea of people on both sides cheering as we rode by. The following night was the Fiesta Flambeau Parade. This parade is the largest illuminated night parade in the United States. I was thrilled when the San Antonio Stock Show and Rodeo asked me to ride with them on their float. It was great to see my friends from the S.A.L.E. Public Relations Committee and get to catch up with them. They truly out did themselves with decorating the float. It looked amazing! Looking around at all of the parade participants, I was blown away by the beauty of the illuminated entries! I was glad to find out that the parade was broadcast live on the web so that my family and friends could also enjoy the spectacular parade. Everyone entered in the parade did such a great job with their decorations. After participating in Fiesta I can now see why everyone loves this time of year in San Antonio. Fiesta more than lived up to the hype and far surpassed my expectations!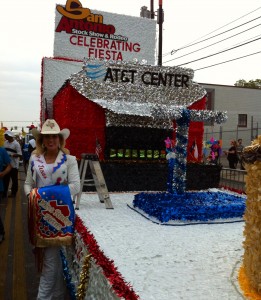 I would like to thank Coahoma Elementary, Quail Dobbs, Avery Greene, Alysia McCormick, Poteet Strawberry Festival Committee, Corpus Christi PRCA Buc Days Rodeo Committee, Don Gay, Chanae Shiner, Dolores Designs, South Texas Cattlewomen, Texas Hill County Cattlewomen, Marjorie Murphy, Knowlton Elementary, Texas Heritage Riders, and the San Antonio Public Relations Committee for playing a part in making my month of April a great success!